Our Suppliers
PJ Watson
PJ Watson is a traditional family business that has a pedigree spanning four generations. Its roots go back to the reign of King George V and a very different Hatton Garden to the one of today. In each generation the business has been run by qualified gemmologists. It is one of our smaller claims to fame that we have the unique distinction of four generations of F.G.A.'s. Our experience and years of service to the industry enables us to cater for the needs of the most discerning of buyers.e.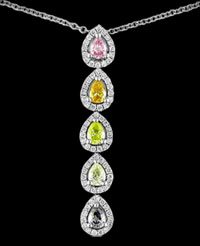 JEWELLERY SUPPLIER
PJ Watson maintains a stock of 100s of items, of both original and traditional design, to cater for a variety of tastes and budgets. Working in 18ct gold and platinum, it aims to satisfy its customers' desire for value and quality. It has a wide range of repeatable items; however, its greatest strength is in its collection of beautiful one-off pieces. PJ Watson's buyers are able to purchase unique gems at competitive prices through its extensive network of gem dealers around the world.
FIND A STORE
Look for other members of the CMJ near you, or find out more information on a specific CMJ store. Explore our extensive network of over 400 independent jewellery retailers.