Our Suppliers
Nona Jewellery
The Nona collection is in rhodium plated sterling silver utilising fine cubic zirconia stones and freshwater pearls. Designed with a sense of modern styling and young at heart, the collection reflects up to the minute trends made with all the skill and precision associated with a quality jewellery collection.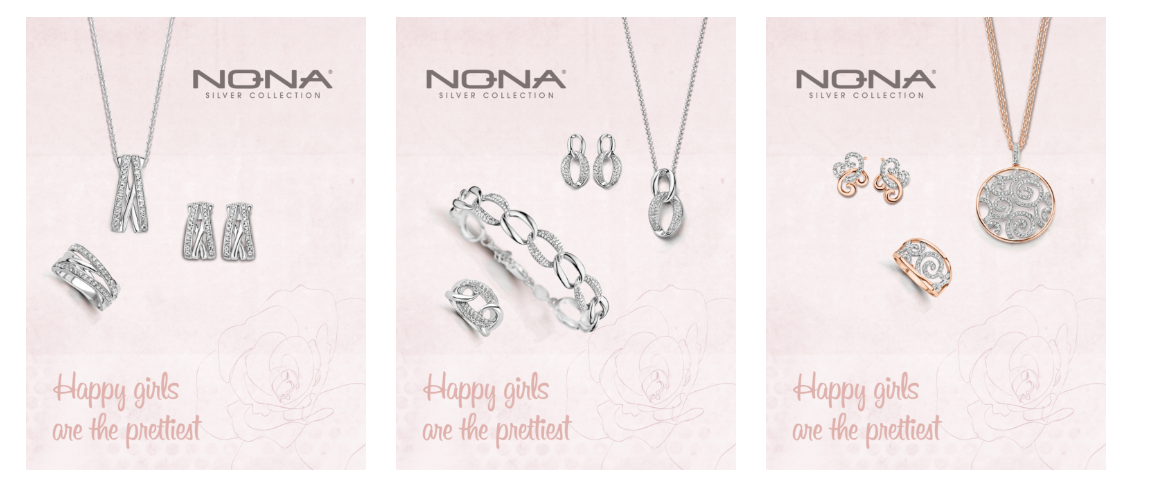 JEWELLERY
Nona silver: five star quality jewellery. STERLING SILVER 925/1000 – Sterling silver consists of 92.5% pure silver, combined with other metals. This combination provides a strong alloy which meets the European standard. SILVER WITH A RHODIUM FINISH – Nona jewellery is always plated with rhodium. The extra layer of rhodium on top of the silver ensures a beautiful white colour and protects the layer underneath against oxidation. ERGONOMIC DESIGN: DURABLE AND AESTHETIC – The ergonomic design of Nona jewellery ensures maximum comfort for the wearer. The product developers pay close attention to this aspect during the design process. HIGH-QUALITY STONES AND PEARLS -Nona jewellery is always hand set with top-quality cubic zirconia. 57 facets per stone ensure a perfect brilliant sparkle. Some pieces of jewellery are set with natural freshwater pearls which are selected with the greatest care, according to their shape and origin. PROFESSIONAL APPROACH – The jewellery in the Nona collection is made using our own designs, by skilled professionals and according to strict requirements. A rigorous quality control is always performed. The Nona Philosophy – Enjoying every single moment of life with a smile on your face, that is the Nona philosophy. No matter where you are and what you are doing, spending precious moments with family, having a good time with friends, being captivated by a thrilling book, going shopping with your friends or simply spending a lazy Sunday in the park… may fun and happiness be with you! Discover the new Nona silver collection and pick out that special piece of jewellery that will not only complete your look but make your day. Enjoy!
FIND A STORE
Look for other members of the CMJ near you, or find out more information on a specific CMJ store. Explore our extensive network of over 400 independent jewellery retailers.