Our Suppliers
Jeweller Solutions
Jeweller Solutions offers a comprehensive service to the retail jewellery industry by undertaking all "jobbing" work, engraving (hand and machine), remakes, setting, bespoke pieces, CAD/CAM, casting and platinum alterations.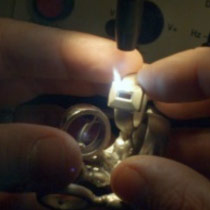 SERVICE SUPPLIER
Meticulous quality control procedures, structured pricing and continuous investment in training and technology, keeps Jeweller Solutions ahead of the competition. In conjunction with its onsite services it distributes articles to other key out-workers in the trade on behalf of its clients, who benefit from Jeweller Solutions' economies of scale.
FIND A STORE
Look for other members of the CMJ near you, or find out more information on a specific CMJ store. Explore our extensive network of over 400 independent jewellery retailers.