Perfect Piece
"A woman shouldn't have to wait in order to wear beautiful things."
The Perfect Piece is a series of stories from CMJ members and staff about the pieces that mean the most to them. Here, Helen Dimmick, award-winning gemmologist and diamond grader with over 20 years in the jewellery industry, tells the story behind the three eternity rings that she wears on her right hand.
By Helen Dimmick, Consultant to CMJ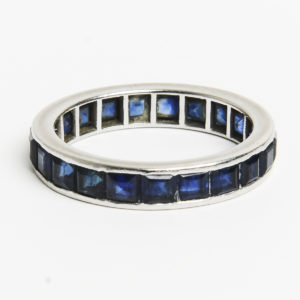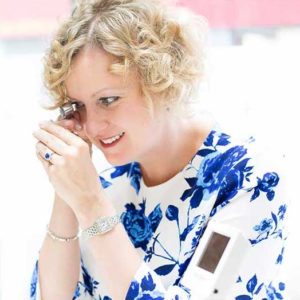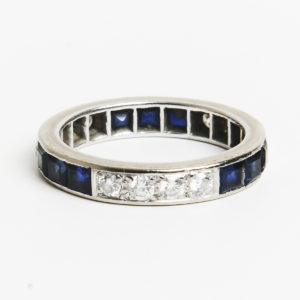 My perfect piece is actually three separate pieces – three diamond and sapphire eternity rings that I acquired during different periods of my life and wear proudly on my right hand.
The concept of the right hand ring is important to me. In my late 20s I was single and watching all of these relationships blossom around me. I realised that many of the women I knew felt as if they needed the status of "married" before they could wear beautiful jewellery, else they attached the importance of it to something other than themselves. As a consequence, I decided to embrace the powerful message of independent women wearing gemstones on the right hand.
The first of the three rings that I purchased was a happy accident. I saw it at auction and immediately fell in love with it. It was only £120. It was very me. The power of purchasing it for myself, without waiting for the validation of someone else, was intoxicating – in a good way, of course. More than anything, I realised I didn't need anybody's permission or approval to buy and wear extraordinary gemstones. I worked hard and I deserved it.
When I moved to Tiffany's I learned about their concept of Celebration Rings. It was a powerful reimagining of the eternity ring concept and it provided the initial idea and motivation behind me layering rings together. I knew that together they could be greater than the sum of their parts and represent something much larger.
From a young age I had a very defined vision of who I wanted to be. From as early as 16 I knew I wanted to work in the jewellery industry. I didn't know it at the time but after the acquisition of my second and third rings in the years between my 30th and 40th birthdays I realised they were telling the story of my journey. Of my career and life's work.
There is power in the beautiful. We react to it whether we like it or not. Man has adorned himself since the beginning of time with powerful amulets and objects of status. But it is not about the materialistic value of our possessions. It is about what speaks to you as a person. All of my rings are the same width and the same size. I don't believe in fate, but if I did I would say they were meant to be together.
I was never a half person, waiting for my other half. I was always whole. Even though I have met the right person and I am about to be married, the three rings I wear daily and which tell the story of my life remind me I am my own person, and to always reward myself for a job well done. I guess you could say my journey has now come full circle as my engagement ring completes and even adds to the aesthetic of my diamond and sapphire rings. The story is complete.